Private Events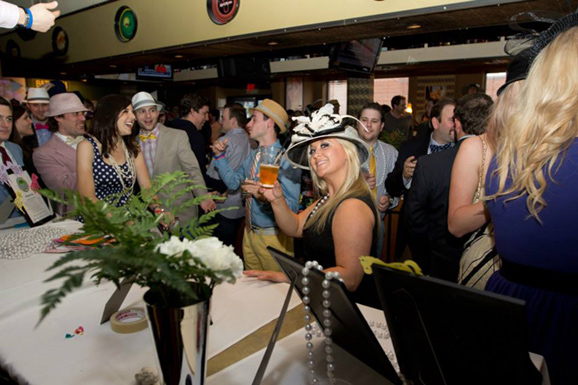 Take Party Planning Off Your To-Do List!
We'd love to help you plan your next event at The Herkimer Pub and Brewery! Located in the heart of Uptown, in the heart of Lynlake neighborhood, we offer several spaces throughout our Minneapolis brewpub that are perfect for entertaining.
Our restaurant's private rooms and event spaces are booked on minimums in sales, which would include all food and beverages from the party, instead of a flat rate. Sales tax and gratuity are additional and added on to the final bill. The minimums fluctuate based on time of day and day of the week. If the minimum is not met, we ask that a gift card be purchased to The Herkimer to make up for the difference. We allow outside cakes and desserts to be brought in at a $20 fee. We also charge a $15 cork fee for outside bottles of wine. Outside of that, anything else can be brought in at no cost such as flowers, linens, decor, and more. Take a look at our spaces, and we're sure you'll fall in love with one for your next event!
We love hosting events and we're ready to help throw your party your way, split the check, wash the dishes, and sweat the details so you don't have to! Please fill out the form at the bottom of this page or click on the button to inquire about rental space through The Herkimer of Minneapolis.
Event Spaces Available:
---
Eva's Garden
Eva's Garden is a semi-private space located at the front right corner of the brew pub, with windows overlooking Lyndale Avenue, separated from the main bar by a half-wall. It can fit 25 seated, and 35 standing. Currently in Eva's Garden there are rectangular high-top tables with high-back bar stools. These tables can be arranged to suit your needs. The lighting and music volume can be adjusted in Eva's Garden, and there is a pull-down projector screen with the capability to project via hardwired laptop (no sound). It's a great space for sit-down dinners, or cocktail/reception style gatherings!
We do not require a deposit for this space.
---
Shuffleboard Alley
Shuffleboard Alley is a unique and casual event space located on the south side of the brewpub. This space includes the shuffleboard table, a long high-top bar rail with stools, and several high-top tables. It can comfortably fit up to 50 people standing. Although this space is not private, it's great for an array of parties or gatherings, and can enable you to enjoy the atmosphere of the thriving Minneapolis bar scene! We can do sit-down dinners, but it is best suited for buffet-style events. The Shuffleboard and high-top bar cannot be moved, but the high-top tables can be moved if desired. The lighting can be adjusted, and there is a pull-down projector screen with the capability to project via hardwired laptop (no sound).
We do not require a deposit for this space.
---
Patio
Our outdoor side patio is one of our most exciting assets! It is available in the summer months, up until November 1st, due to city permits. The patio can seat 40 people, and hold 120 comfortably standing. We offer numerous high-top tables with bar stools, and one long high-top bar rail with stools. The tables can be moved around and set up to suit your needs. Behind the long high-top bar, we have a turf-lined Bean Bag court. This space is utilized for bean bag leagues and events, and can be incorporated into any patio event!
This space does not require a deposit.